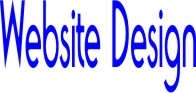 A Website is like an online brochure that is readily available to those in your local area and the rest of the world. There are no limits to the possibilities.
The "website" has become the
ultimate advertising tool.
Many companies today are finding
that they are drawing an    
increasing number of customers
through their websites.
Many prospective customers will
not contact a company
until they have first looked
at a website.
We can take care of your website
as well as hosting and
domain registration for you.
We aim to make
owning a website is
as easy as possible.
Dynamic Brochure Website Design
Design time is charged at
£40 per hour.

Dynamic Website Deals
5 page Website with
 1 year Standard Domain Name
1 year Managed Hosting with SSL
Email Addresses
Desktop & Mobile Friendly
from £375*
10 page Website from £495*
* Price is a one off Build cost
Year One Hosting & Registration included.
Year Two Hosting & Registration is
billable at current rates.
Managed Hosting with SSL
£30 per year
(subject to reasonable size & usage)
Includes POP & IMAP email
PHP 4.4, 5.1-5.6 & 7.0-7.1
MySQL Databases
SSL Certificate for HTTPS
(SSL is preferred by Google & Apple)
Domain Name Registration
£20 per year
(regular names*)
* prices apply to regular domains
(eg. .com .co.uk .org)
premium domain names will be
charged at cost plus admin fee
E-Commerce Website
An e-commerce site is an
online shop where your
customers can add products
to their shopping cart and
pay online via a merchant
account like PayPal or
Google Checkout.
We can provide an online
shop which allows you to
manage your own inventory,
adding new products as
you have the need.
SSL Encryption protects your
shop and your clients data.
Please contact us for a
free no obligation quote.
Website builds will be quoted in writing.
A 50% deposit will be required before work can commence. The final 50% payment will be due upon completion.
Any Stock Photographs or Specialist Plugins that are required may be invoiced separately.